Hello folks, it's time for your next foolery instalment. This week sees tales of politics, Shakespeare (and a bit of Trump.. Sorry..), inadvertent Shakespeare hacking, and Shakespearean fashion..
As you may have seen, last weekend the Shakespeare Institute (based over in Stratford-upon-Avon) had an unfortunate experience of hacking on their Twitter account. It was quickly nipped in the er bud, and er, rectified. For a write-up of the incident you can have a look at this article which, in true Daily Mail fashion, doesn't give the most accurate impression of the Shakespeare Institute. And I don't think the tweets are always of a 'high-brow nature'. This is Shakespeare after all! The article amusingly also says in an oddly passively aggressive tone:
The Shakespeare Institute describes itself as a 'an internationally renowned research institution based in Stratford-upon-Avon established in 1951 to push the boundaries of knowledge about Shakespeare studies and Renaissance drama.
It doesn't just describe itself as this. It is this!
From the ridiculous to er, Trump, Shakespeare and political cartoons. The Reduced Shakespeare Company have wondered how Shakespeare might respond to a character a bit like the current President of America, and you can listen to their, and their guests, musings on the subject here. Meanwhile, the RSC are launching a new exhibition entitled 'Draw New Mischief', which features a whole host of political cartoons inspired (however loosely) by Shakespeare's plays and characters. And no, of course it's not all about Trump. (But this one is..)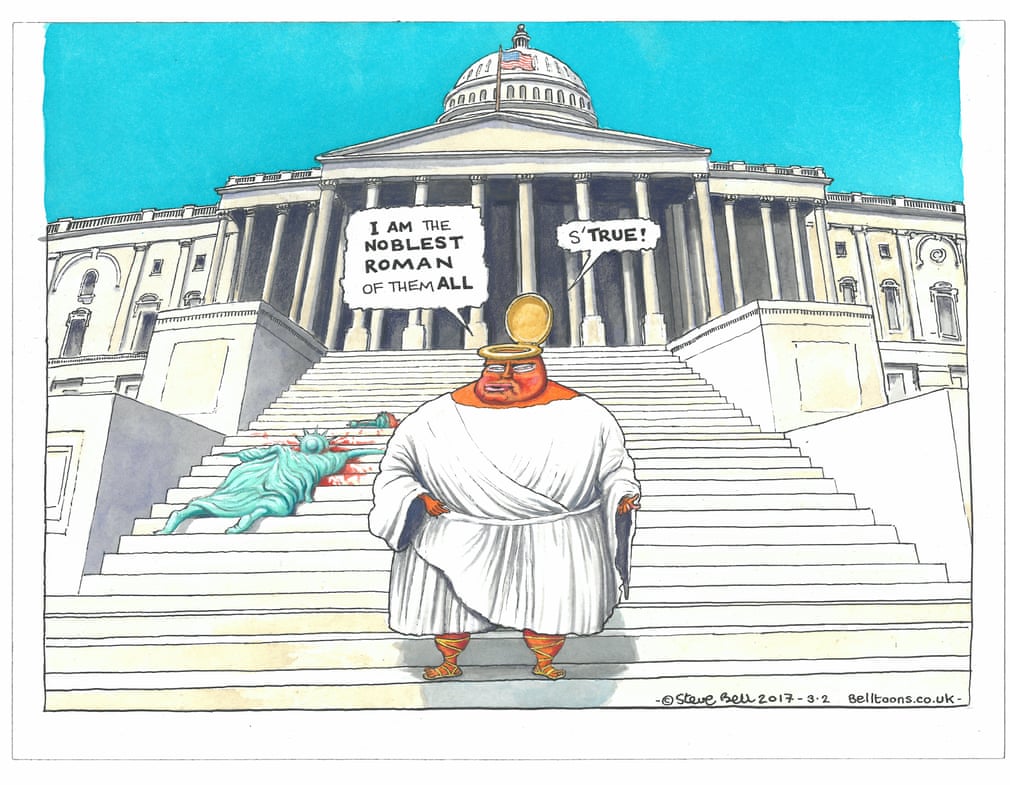 Other notable buts of the jokes, and satirised characters include John Major and Tony Blair. You can read a bit about the exhibition here, and do go and check it out in Stratford before September 15th if you can.
It wouldn't be a foolery column without a Shakespeare quiz, so this week here is a literary themed quiz to test your book knowledge. It features a couple of Shakespeare questions (on Othello and another character or two..) as well as questions on Dickens, Salman Rushdie, Austen and others. How book-smart are you? And test your knowledge of Shakespeare (and Taylor Swift) with these quiz questions..
Ever wanted to wallpaper your house in Hamlet paper? Make cushions with Shakespeare insults fabric? Or rig-up quartos on your wall? Well look no further than this shop which produces all such things, yes really!
Are you a board game fan? Or a Shakespeare-themed game fan? Well this post, is one for you. Game-playing sounds like the ideal thing to get up to on an archive trip to me! (And of course, I mentioned another Shakespeare-themed game in the previous foolery column, involving Munchkins. If you need a refresher click here to revisit the post).
What light from yonder (Skype) window breaks..? What do you mean, that's not the line? Well have you heard of the actors who practice together despite being some 1600 miles apart. Shakespeare crosses all sorts of boundaries, without a passport (Ssh. Don't tell customs!).
Over in Shanghai, there's an Asian premiere of Punchdrunk loosely based on Macbeth. A mammoth transformation project – this took over a year to prepare the building for the interactive performance. It's set in the 1930s and the whole interior of the building reflects this, right down to each individual prop. Read more about the production here, and do get in touch if you've been along (it's sold out).
Lady Macbeth has been cited as an up-and-coming fashion-trend. Yes, really..
There are highwaymen and women, and even Lady Macbeth (as namechecked by Antonio Berardi), in collars high enough to hide behind and falconry-glove sleeves.
In this world of empowered women, harsh politics dictated by women, and tricky issues being shown in the thorny flowers adorning clothing. Check out this write up on London Fashion Week, to see if there's any hand washing going on..
And on that flowery fashionable foolery note, that's all for this week folks.
Until next time, keep foolin' around, Shakespeare style!