Mums, Dads, and Shakespeare lovers, listen up (if you can hear me over that screaming toddler)! Parenting advise is everywhere–from the elderly lady in the street offering suggestions on how little Lucy might be better protected from the rain if you'd brought her coat and not stuck that plastic bag over her head, to the extensive library of written material on how best to bring up your kids. The truth is nobody really knows. Nobody, that is, except Shakespeare.
Yes, seriously. William Shakespeare, that playwright from ye olde worlde (Add 'e' to anything and it sounds old fashioned. Unless it's a four-year-old–then they're probably just excited). When Kwazii or Professor Inking from Octonauts haven't quite got the answer or the Furchester's mantra to 'Never Give Up' isn't working well enough, you can turn to Shakespeare's Guide to Parenting.
James Andrews has collected Shakespearean pearls of wisdom for any parenting situation you might be faced with and paired them with cartoons such that the images and quotations tell a story.  When I said 'any parenting situation', I meant it. From breastfeeding in public and nappy-changing to inappropriate clothing from your teenage daughter, Andrews has found a quote from Shakespeare to fit.
Shakespeare's mums and dads might not seem like ideal parenting role models. Lear disowns his faithful daughter delighting instead in the superficial flattery of his other children; Prospero uses some questionable methods to get his daughter to sleep; and for most of the Henry IV plays Hal's father seems to outright hate him. But by matching quotations with modern parenting situations, Andrews offers us a fresh look at Shakespeare as well as a comic look at what parenting is really like beyond the neat black and white pages of the book.
It's small enough to chuck in the nappy bag so you can have it on hand for quick reference. And if you're looking for a present for the Shakespeare geek (parent or not) in your life, you can probably squeeze a copy into a stocking this Christmas. But before you go rushing off to your local bookstore to buy it, I'd like to share with you a couple of my favourite moments of the book. The first because–let's face it–who hasn't been asked by a child to pretend to be a horsey?
Yes, even Shakespeare has something to say about this. Even if you're not overly enthusiastic about playing horse Andrews urges you to 'graciously accept the role given you in these play episodes..' and couples the image of baby riding a horse with a quote from Richard II, obviously!
'I was not made a horse and yet a bear a burden like an ass'. Perfect summary of the weird and wonderful characters you're asked to play by your kids.
Then, of course, there's the classic hairbrush threat as you try and calm the fighting children down in the back of a car on a long journey.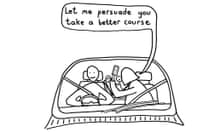 And my favourite one of all (thanks to which I'll never read the plucking out of Gloucester's eyes in Lear in quite the same way) is all about sweets. Making sure your kid isn't eating too much candy is important: when in doubt, turn to Shakespeare who recommends turning them upside and yelling with gusto: 'out vile jelly!'
Andrews playfully selects Shakespearean quotations for all the classic parenting conundrums. As well as raising a laugh, he also makes you think again about lines you may have read many times before. After reading this book I guarantee you'll read them differently. Compliments about breast will make you think of breast-feeding on the tube, and you'll never read lines about stools again without thinking of nappy changing. But that's just being a parent, right? Or at least one who follows the advice of Shakespeare!
James Andrews, Shakespeare's Guide to Parenting (London: Square Peg, 2015)
---
I'm always keen to read and review Shakespeare adaptations or appropriations: comics, novels, short stories, plays, or poems, do feel free to get in touch either by e-mail at sarahwaters@outlook.com or via Twitter where you can find me @srawaters